---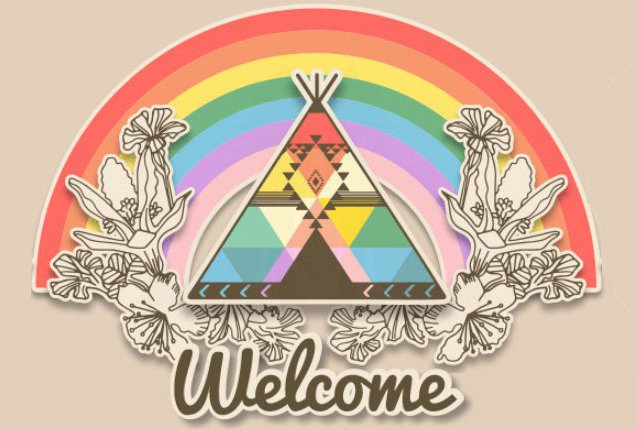 Rainbow Circle AGM
Noon, Sunday 22nd October 2023
at newhouse Farm, Ashbourne
See our facebook for more info

---
Rainbow Circle Beltane camp 2023
Thursday April 27th to Monday May 1st
Kniveton, Ashbourne, Derbyshire
---
Rainbow Circle Summer Camp
19 - 28 August 2023
(not 21-31 July)
Kniveton, Ashbourne, Derbyshire
---
For more uptodate chat checkout our Facebook Group
---
---
Beltane 2022
Friday 29 April - Wednesday 4th May
Kniveton, Ashbourne, Derbyshire
---
Summer Camp 2022:
Saturnday 13th to Sunday 28th August 2022
---
---
AGM October 2022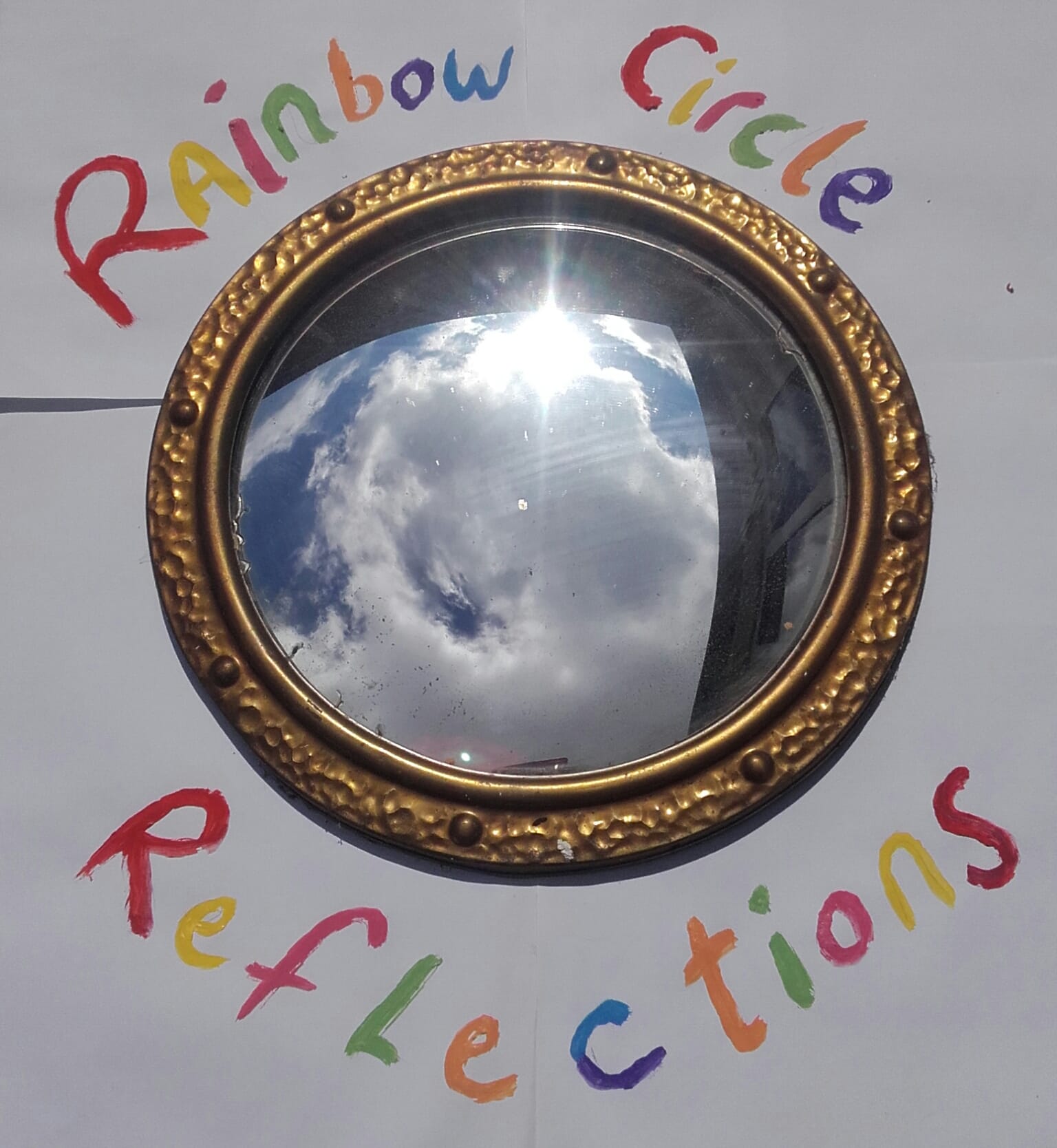 ---
AGM 23+24 October 2021
at Hatfield Court HR6 0SD
Saturday : Music and Dance
Sunday: Help decide what shall we do in 2022
Bedrooms, caravans, camping and parking space available
what3words.com/rural.bottom.wizards
---
Rainbow Circle Rebirthday Camp
16-23 August 2021
South Derbyshire
Magic Hat
click here for more details...

---
Rainbow Circle AGM 2pm Sunday 25th October 2020
( Due to covid19 this year's AGM will be held online. )
Cabaret 7pm Saturday 24th October
Talking/Listening Circle 1pm Sunday 25th October
AGM 2pm Sunday 25th October

Agenda and Login details are posted on the website CLICK HERE
(Zoom is often easier on your smartphone than a computer!)
Our 2019 Camps:
Beltane 29 April - 5 May
Reflections Camp 26 July to 11 August 2019 Hosted on a working organic farm in, Kniveton. Nr. Ashbourne, Derbyshire.
An experience like no other.
Physically meeting new people. Preparing communal vegetarian/vegan evening meal.
No booking required.
No ticket necessary.
The magic hat collects, each day, cash donations to pay the farmer camping fees and storage, firewood and food basics.
We come together to learn and grow. Make music and friends. Get arty and creative. Laugh, dance and sing.
Living as a family.
Our group has boundaries. Which we must hold together. A disclaimer in the gate book is to be signed on your arrival. Dogs welcome but must be kept on a lead at all times
See our Facebook Event RAINBOW CIRCLE AGM 2018. New House Farm, Longrose Lane Kniveton Derbyshire DE6 1JL Sat 27 Sun 28 October. ALL welcome to come join us and camp cook chat vote and plan the year ahead For more see Facebook

---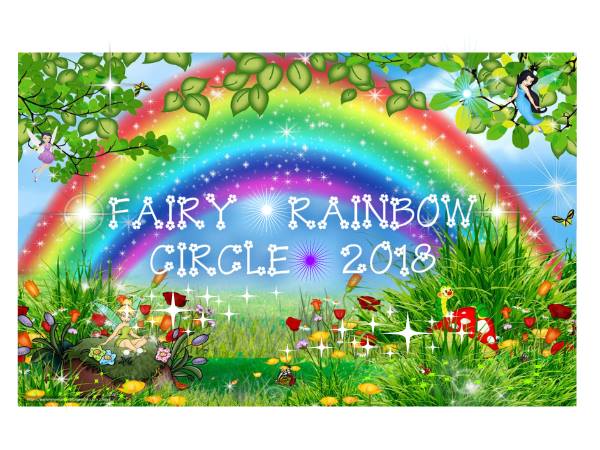 our 2018 Camps:
Fairy Beltane: Friday 27 April to Tuesday 1st May ( facebook Event )
Wyrdology : Saturnday 11 August to Sunday 26 August
Both in beautiful Derbyshire again
---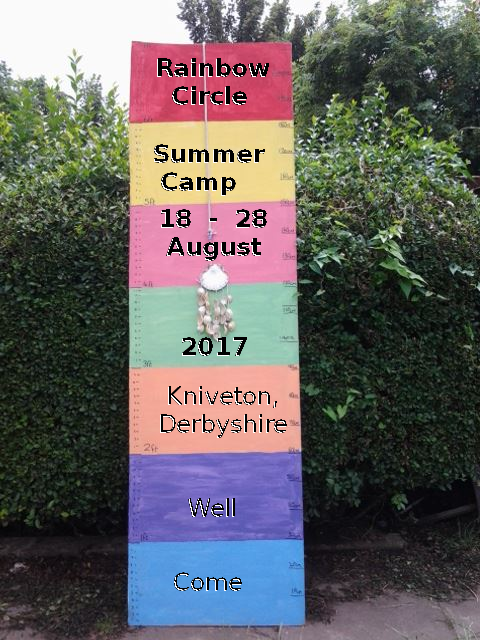 AGM 2007: noon Saturnday 21 October to sunset Sunnyday 22 October at Hatfield Court.
(Planning camps for 2018.)
For more info please see our Facebook Group
Our 2017 Summer camp was from Friday 18 until Moonday 28 August 2017, in a new bigger field at Bob's farm at Kniveton, Ashbourne, Derbyshire.
Click here for more details , andor checkout the facebook event
Co-ordinators were Karen , Carrie and Nell
please contact us if you'd like to help with tatup and tatdown
---
---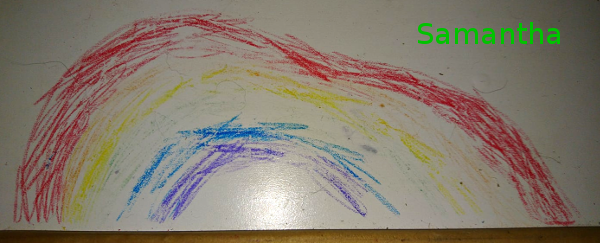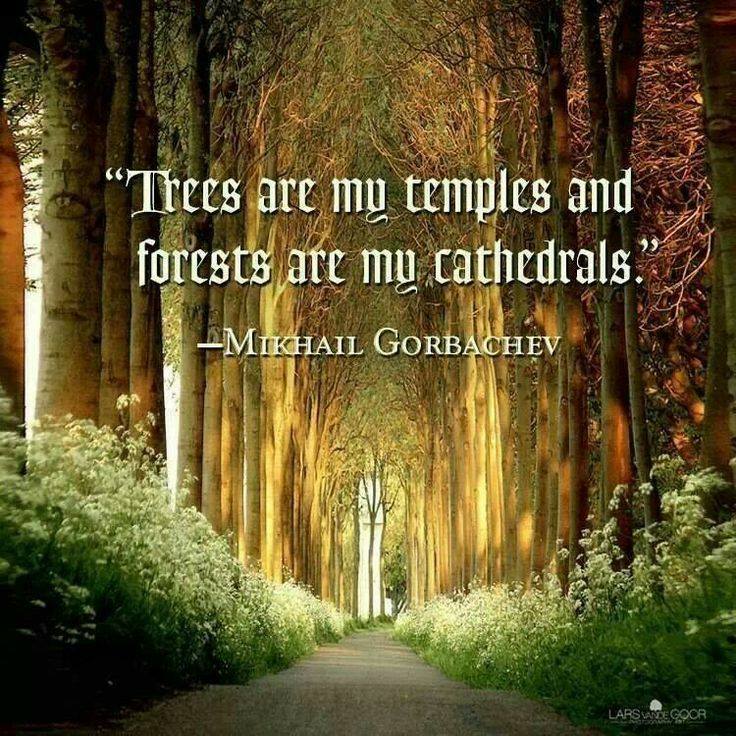 2017 Beltane camp was Friday 28 April - Monday 1st May,
See Carries review here
See the Facebook event here
---
our AGM was 22 + 23 October 2016, Hatfield Court Herefordshire, to discuss 2017's activities etc (and music Saturnday night).
---
For more uptodate chat checkout our Facebook Group


---

Rainbow Circle's 2016 Beltane camp was small and sweet. Its facebook event was: Rainbow Circle Beltane Camp

---

Our Beltane 2015 website is here , and our Summer 2015 website is here (they are slowly being merged and debugged)
AGM 24+25 October 2015 was at Hatfield Court
---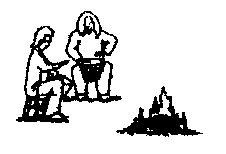 Our 2015 Summer Camps ...
Wednesday 29 July til Tuesday 11 August 2015
Full moon 31st July
Lammas1st August
Week one: Moon Dreams and Sun Beams (Emily, Karina, Hollie)
Week two: Rainbow Village (Karen, Karen, Carol)
All 2015 camps in Derbyshire
More details will be posted here nearer the time...

Our 2015 Beltane Camp ...
Wednesday 29 April to Tuesday 5th May 2015
http://rainbowcircle.co.uk/beltane2015/home.html
Saturday's cabaret live acoustic rave was great (bring more drums)!

---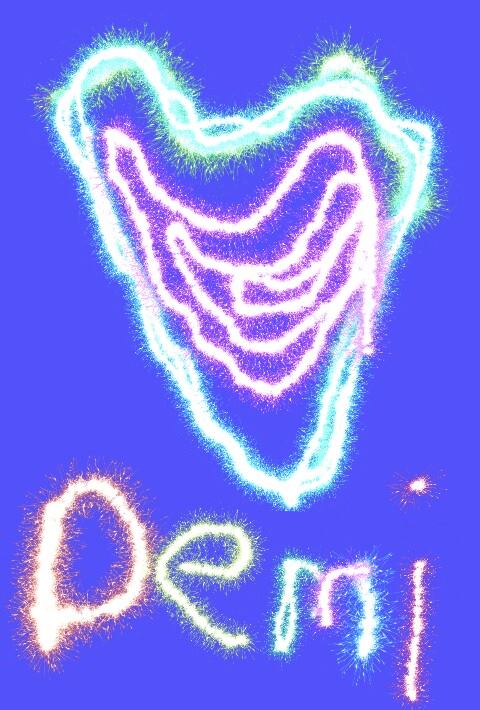 December 2014 Art from Demi
---
AGM was at North Wingfield Miners Welfare on 25 and 26 October 2014. Williamthorpe Rd, North Wingfield, Chesterfield, Derbyshire S42 5PD

---
Summer Camp 'Family and Kidz' was Wednesday 6th August - Tuesday 12th August 2014, in Derbyshire, See webpage family2014.html andor facebook

Rainbow Circle Beltane Camp 2014 was groovy! (30 April to 5 May 2014)
As asked to by the October 2013 AGM, the WWG on Saturday 15th February discussed a Safer Space Policy, and approved it, (although it can be amended if you can think of improvements. (It is taken from an Anarchist Camp document, and slightly amended.)) http://www.rainbowcircle.co.uk/safer-space.html

AGM 2013 was on 26 and 27 October at Hatfield Court, Herefordshire HR6 0SD, talk about what went right and wrong in 2013, make music, and what camps we want to organise in 2014....
---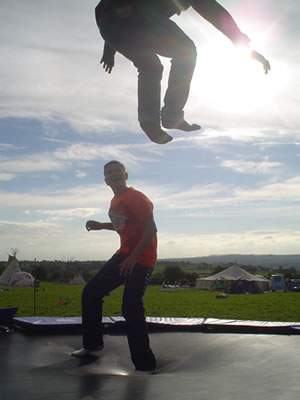 The Rainbow Circle brings together all people who want to share energy and ideas which could lead to a happier and healthier lifestyle for us all, as an integral part of the natural world in harmony with the cycles and rhythms of the earth. We live in a beautiful land on a beautiful planet that's being trashed. What can we do?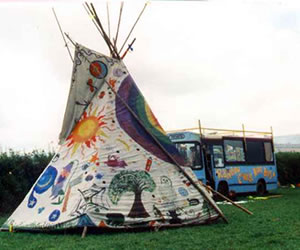 Our camps are experiments in living together co-operatively. They help us to develop awareness, respect and love for our environment and for each other. Rainbow Circle Camps offer ways to learn some skills of the alternative culture. Workshops cover a wide range of alternative topics and each camp has its particular theme which can be explored in depth. Ultimately all the camps are about transformation, evolution and the expansion of our consciousness.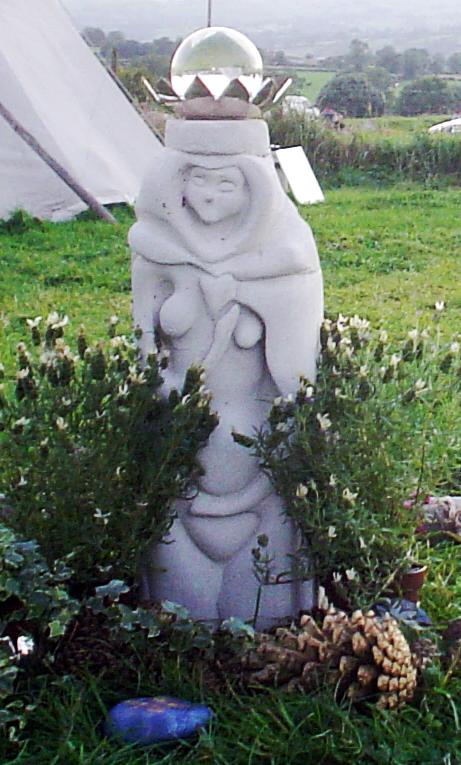 We work on a voluntary basis, offering our services for love rather than money. Our rewards are living together on the land, sharing ideas, feelings, songs and stories, while working and playing together with friends old and new.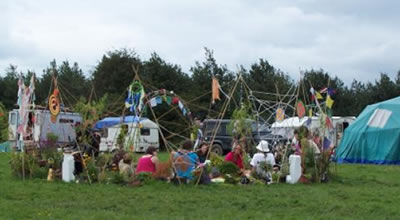 Each year we hold a number of camps in Britain between May and September; if you'd like to be involved in the camps or want more information, get in touch! We keep the location quiet until just before the camps, so please email or phone.
Dogs
Dogs must be kept on a lead at all times and cause no nuisance. If a dog injures people or worries farm animals the dog will have to leave the campsite. Rainbow requests a £5 deposit for each dog. This is to ensure all owners look after and clean up after their dogs. A full refund will be offered on departure. Please ensure all dog waste is picked up and placed in one of the compost toilets. No Plastic bags in toilets.
Magic Hat
Our camps are Magic Hat. There's no set ticket price and no fixed roles.
Photos
You can upload your photos and artwork to the egroup and facebook, but please check with the people in them first.
Please note that we have tried to be sensitive in choosing the photos on this website. But we have not managed to ask permission of all the people whose images may appear on this website and on the egroup. If you find your own image here - or the image of a family member, or a friend you feel sure would not want their photo to be displayed here, please let us know and we will remove the photographs in question as soon as possible.
Copyright Rainbow Circle 2021 (c).
---
Checkout out Sitemap and/or Google search below: